A threaded rebar coupler is an essential component used in construction to connect two separate steel bars of reinforced concrete. The coupler is designed to provide a strong, reliable, and efficient connection between two reinforcing bars without the need for welding or other time-consuming methods.

As a professional rebar coupler manufacturer, we understand the importance of providing a high-quality product that meets the needs of our customers. From design and manufacturing to distribution and customer support, we strive to provide the best possible product and service to our clients.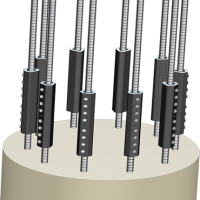 At our company, we offer a range of threaded rebar couplers that are designed to meet the specific needs and requirements of our clients. Our couplers are made from the highest quality materials, including carbon steel, alloy steel, and stainless steel, ensuring that they are strong, durable, and able to withstand even the most demanding construction projects.

We also offer a range of sizes, styles, and specifications to meet the specific needs and requirements of our customers. From standard couplers to custom-made solutions, we have the expertise and experience to provide the perfect solution for your next construction project.

In addition to our threaded rebar couplers, we also offer a range of other construction-related products, including tubular scaffolding, frame formwork, steel pipe, aluminum products, steel coil, steel structure, steel profiles, phone booth, and safety netting. All of our products are designed and manufactured to the highest standards of quality and safety, ensuring that our clients receive only the best possible products and services.

At our company, we pride ourselves on providing exceptional customer service and support. We understand that our clients are the lifeblood of our business, and we go above and beyond to provide them with the support and assistance they need to ensure that their construction projects are successful.

In conclusion, as a leading wholesale threaded rebar coupler manufacturer, we are committed to providing high-quality products and services to our clients. We have the expertise, experience, and resources necessary to meet the specific needs and requirements of our customers, and we are dedicated to exceeding their expectations in every way possible. If you are in need of a high-quality threaded rebar coupler, or any other construction-related product, please do not hesitate to contact us today. We look forward to hearing from you!